Crosstown Schools

Air Force Reserve Officers Training Corps (ROTC) Detachment290 is located on the campus of the University of Kentucky.  Through cross-town agreements, students at the following colleges and universities can enroll in Air Force ROTC. If you are enrolled at one of these cross-town institutions, contact Detachment 290 for more details.
Benefits of attending AFROTC at each school are listed below the description.
---
Through education, cultural stimulation and economic development, the University of Kentucky's impact can be felt across all 120 Kentucky counties. Blending creative teaching and instruction methods with innovative research, medical care and community service, it is no wonder that UK is The University of Kentucky.  UK's diverse student population represents 117 countries, every state in the nation, and every Kentucky county. The average ACT score for its first-year students is four points above the national average. UK students compete successfully for the most prestigious scholarships and awards, such as the Fulbright, Truman, Goldwater and Marshall. UK was selected as one of only 13 universities nationwide to participate in the Beckman Foundation Scholarship program in 2002 and the grant was renewed in 2005. This prominent program allows UK to award grants of $17,600 to students to support their own research projects. UK also was recognized as a Harry S. Truman Foundation Honor Institution for exemplary participation in the program. To date, UK boasts 12 Truman Scholars.
AFROTC Benefits: Students attending with an AFROTC High School Scholarship will receive an additional scholarship from UK to cover the expenses of Room & Board, while housed on campus. (subject to financing)
Type 7 scholarship winners from any state receive in-state tuition rates.
Active ROTC cadets are eligible for housing in the ROTC Living & Learning Community.
Students who attending with an AFROTC scholarship will receive Priority Registration benefits. The course registration window will open one week before the rest of the undergraduate windows.
---

Since its founding as a state normal school to prepare teachers for the Commonwealth, Eastern Kentucky University has been a college of opportunity with a primary emphasis on the teaching/learning process. With a principal service region of central and eastern Kentucky, Eastern has served as a vehicle for upward mobility for generations of Appalachian Kentuckians. More than 70,000 degrees have been awarded on the Richmond campus, and EKU graduates have distinguished themselves in virtually every profession.
AFROTC Benefits: Students who attend EKU with an AFROTC scholarship awarded in High School will receivefull room and board.  Room covers on-campus housing.  Board includes an repeating $1100 meal card.
---

Transylvania University is an institution committed to undergraduate students and to excellence in liberal education. The University's philosophy is that the scope, spirit, analytic approaches, and integration of knowledge inherent in liberal arts education are the best preparation for life beyond college. At the same time, Transylvania recognizes that specific career goals are important and integrates these within individual programs of study.
AFROTC Benefits: Students who attend Transy with an AFROTC scholarship will receive up to full room and board costs in benefits from the University.   
---

Georgetown College is a private, coeducational, liberal arts college located 12 miles north of Lexington in the heart of the Kentucky Bluegrass. Founded as a classical school in 1788, Georgetown was incorporated in 1829 as a college dedicated to academic excellence in a Christian environment. Historically related to the Kentucky Baptist Convention, Georgetown is recognized for its rich traditions, high ideals, superb faculty and challenging curriculum. The momentum is building as Georgetown College prepares for the 21st century. Find out what's new and exciting at the college!
AFROTC Benefits: Students attending with any AFROTC Scholarship will receive an additional scholarship from Georgetown to cover the expenses of Room & Board while housed on campus. Additionally, Georgetown College accepts the AFROTC Type 2 Scholarship as full tuition.
---

Asbury University is an independent college, providing education guided by the classical tradition of orthodox Christian thought. Foundational to this endeavor is a high view of scripture as God's infallible word, particularly with its teaching that the world was created by God and that persons are created in the image of God. The total educational program of the college reflects a liberal arts character. The college believes in the humanizing value of broad exposure to our Western cultural heritage, the "great tradition" as a classical body of knowledge, and seeks to develop students' natural God given potentials as physical, social, moral, rational and spiritual beings. Every facet of college life is shaped by the Wesleyan-Arminian understanding of sin, grace and the possibility of full salvation. By its various programs, the college seeks to engender among its students a commitment to Jesus Christ as personal Savior, to holiness of heart and life and to the cause of world redemption.
AFROTC Benefits: Students who attend Asbury with an AFROTC scholarship will receive full room and board paid by the university while they live in Asbury housing.
---

Founded in 1819, Centre College is among America's oldest schools and has a rich history. Centre is a private, four-year institution ranked by U.S. News & World Report and others among the top 50 liberal arts colleges in the United States. Centre is known for its top-notch academics and friendly, family-like environment. Centre alumni are known for their unusual career success and for being the most loyal in the nation. (Each year a higher percentage give financial support than the alumni of any other college or university.)
AFROTC Benefits: Students who attend Centre with an AFROTC scholarship will receive full room and board paid by the College while they live in Centre College housing.
---

Kentucky State University is the state's unique, small, liberal studies institution with the lowest student-faculty ratio in the state system. The University serves as a residential institution with a range of traditional collegiate programs appropriate to its liberal studies role and to its status as an historically black college and university.
AFROTC Benefits: Students who attend KSU with an AFROTC HBCU scholarship will receive full tuition (up to $18,000 annually, $900 for books and $300-500 monthly for food) after meeting minimum qualifications.
---

BCTC provides educational opportunities to more than 13,000 students in various academic, technical and personal enrichment courses. BCTC is vital part of the University of Kentucky and is an important economic and workforce development facet in central Kentucky.
---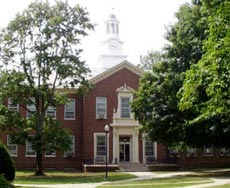 Midway University shapes and inspires the lives of women and men in undergraduate and graduate programs through a student-centered, global education that leads to rewarding careers and responsible citizenship.