Air Force ROTC Detachment 290
AFROTC@uky.edu
859-257-7115
203 Barker Hall, University of Kentucky
Lexington, KY 40506
Address: Barker Hall, 408 Administrative Drive, Lexington KY, 40508-0028
Parking:  Please click this Visitor Parking link for more info.
Administration Drive: You park on Administration Drive without a UK Parking Permit after 1930 on weekdays and anytime from 1530 on Fridays to 0500 on Mondays. If you park on Administration Drive without a permit during business hours you will be ticketed.

Parking Structure 5: Visitor parking for groups or individuals is located in the South Limestone Garage (PS #5). The cost of parking is $2.00 per hour with a $16.00 per exit maximum.

Meter Parking:  Scott Street and South Limestone
 
Directions to Barker Hall (University of Kentucky)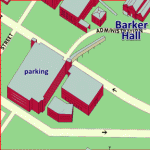 408 Administration Drive 40506
UK Building # 28
(click map)
 
From Interstate 64/75, take Exit 113, which is Routes 27/68 (Paris Pike) and will be listed for Paris/Lexington - go towards Downtown Lexington.
Go straight on 27/68, which becomes Broadway Street once you cross New Circle Road (4)...you will see signs for UK.
Continue going straight on Broadway Street and it will take you past Transylvania University and into downtown Lexington - you will continue past Triangle Park, and Heritage Hall/Rupp Arena.
Once you pass under the pedestrian crosswalk and a traffic light at the top of a small hill, get in the left-hand lane and keep going straight to the second traffic light where you will turn left on Bolivar Street.
You will go a very short distance on Bolivar Street and it will dead end into a one-way street to the right. Turn right and immediately get in the left lane and turn left into the parking garage.
From the Lexington Bluegrass Airport, turn left at Man O' War Blvd from the exit. Turn right at Versailles Rd.
Continue on W High Street which becomes W Maxwell Street (fork to the right).
Turn Right at South Upper Street which will put you at the back entrance of the garage. Turn left into the parking garage.
You can park anywhere in the parking garage, but try and park on the 3rd floor near the pedestrian bridge. Regardless of where you park, you will need to go to the northeast corner (to the right when facing South Limestone) of the parking structure and go to the 3rd floor and take the pedestrian bridge across South Limestone.
Once you come down the walkway, the Student Center will be the building that sets back to the left across the elevated sidewalk. Barker Hall (Buell Armory) will be directly across the street in front of you. 
Parking Structure #5 / Google Maps / WAZE
Once in the Lexington area, input "Parking structure #5" into Google Maps, Waze, etc.  This will directly to you straight to the correct parking garage on South Upper Street.  Once in the garage, the pedway across the road to campus is located on the third floor.
---
Barker Hall- Home of the Flying Wildcats

Built in 1901, Barker Hall remains the proud home of the Flying Wildcats, Air Force ROTC Detachment 290!  Originally named Alumni Hall, the name was changed to Barker Hall in 1931 to honor a previous president of UK, Henry Barker.  Throughout its rich history, it has served many different purposes, such as housing some of the first UK basketball games and serving as an infirmary during the flu epidemic in 1918.  Barker Hall's main purpose has been housing the UK Air Force and Army ROTC programs.
Barker Hall began to house the Reserve Officer Training Corps in 1917 during the UK presidency of Henry Barker. The purpose was to assist in the preparation of military members during WWI.  In 1947, UK Air Force ROTC emerged at Barker Hall as Detachment 290. In 2007, UK Air Force ROTC and Army ROTC became partners and established the ROTC Living Learning Program at UK.